Floor standing brochure display stands
Many options are available for
leaflet display stands
depending on how many brochures or leaflets you want to display at a time. Sometimes in a showroom or exhibition stand it is better to display the correct brochure next to the product on display. Our Deco brochure stands are ideal for this application.
Literature stands: styling
Another consideration is the style and image you wish to convey. An expensive high quality product brochure should not be displayed on a cheap literature stand so we have up market as well as low cost brochure racks.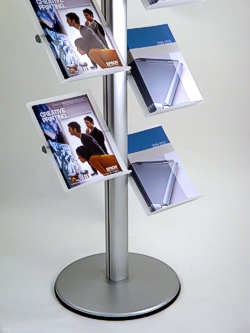 Exhibition brochure stand which folds away
You need to consider whether the literature display stand is to be portable or semi-permanent. Some models disassemble more easily than others.
Floor standing leaflet display at an exhibition is much faster to set up when using a folding brochure stand.
We have double sided exhibition brochure stands as well as the front facing collapsible floor stand pictured below right which comes in a neat carry bag.