Best sellers for garden centres and some ideas for general retailers
Hand written signs convey that personal local provenance touch
Some of our nusery and garden centre customers have always favoured the immediacy and convenience of hand written POS signs. For instance in coffee shop and restaurants Today's Specials or the desert menu have relied heavily on attractive
table chalkboards
.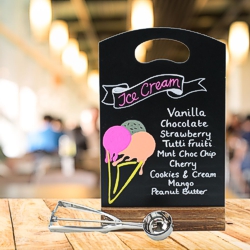 But today other retailers ranging from less sophisticated farm shops up to the highly skilled fresh produce departments of leading supermarkets have embraced the style and inherent personality of hand-written point-of-sale materials.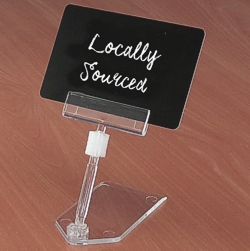 Card Grippers are so versatile
These clear plastic
card grippers
come in various styles. The two most popular models have a push-in card holder which swivels and adjusts to any angle, attached to a spring-loaded clamp. The one shown is the large size clamp. It will attach to garment rails, terracotta pots, buggy, stroller or lawnmower handles etc. The smaller size clips onto plates, vases, deli-counter containers etc.
Many of the retail accessories on this page are also perfect for farm shops, produce stalls and market traders.
More table and counter ticket holder options
For food serveries, delicatessens, self-service food counters and refrigerated displays it is important to display correct descriptions and prices to assist customers and encourage purchases.
Our Crystal card holder are one of a range of stands we have to hold a semi-rigid card such as a menu.
View our full range of
display stands
and bases for holding cards and tickets on a tabletop or counter.

With colourful chalk pens table blackboards can look amazing in the hands of someone with a little artistic flair. But worry not! The ice cream cone symbol was created using a stencil from our stencil set.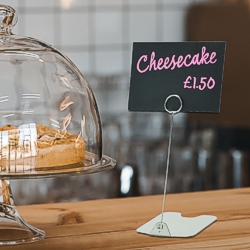 Green Magic has offered a number of valuable aids for many years and these are all available from our online shop. These range from waterproof and wet wipe chalk pens to little stands which can be used in the servery or food counter. We also offer reusable chalk-cards to go with these products.