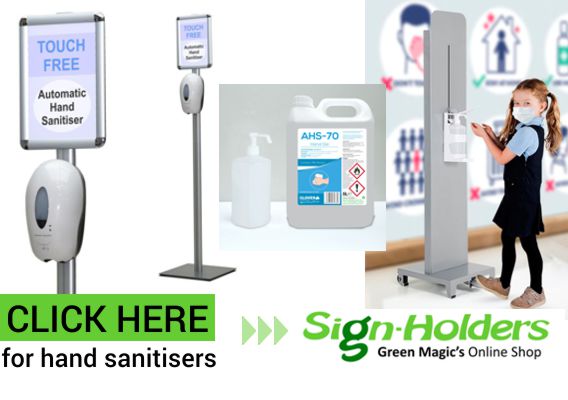 Hand sanitiser dispenser options
Before Covid-19 struck Green Magic Co was already a leading UK supplier of freestanding signs, typically comprising a base with a pole and a sign holder or poster frame on top. We had many existing designs of floor stands: for indoors and outside, from budget to high spec.
By attaching a hand sanitiser unit to the pole we were able to quickly assemble a range of floor standing hand sanitiser dispenser products. We re-imagined several of our floor stands to incorporate one of the principal hand sanitising technologies: automatic dispensers, lever operated, pump action and foot operated.
Deciding which sanitiser is best
Some dispensers are designed only to accept a particular brand of refill cartridge whereas other makes can be refilled with any type of appropriate sanitiser. It is important to select the correct dispenser and sanitiser combination. Liquid sanitiser formulations work best with a spray nozzle whereas gel formulations are too viscous for spraying and require a drop nozzle which dispenses a blob or bead of gel. Our dispensers are designed to work with gel as we believe there is less mess. While our hand sanitiser dispensers work with any brand we are pleased to offer hand sanitiser gel which is tested and proven.
Manual or automatic dispensers
The main advantage of an automatic hand sanitiser dispenser is that it is does not need to be touched. However some people prefer a low tech pump action dispenser. We have produced a blog article on choosing a hand sanitiser dispenser.
There is also the option of dispenser stands with a foot pedal which the user simply depresses to discharge a small quantity of hand gel. We have introduced a foot operated hand sanitiser dispenser which is adjustable so that the discharge nozzle can be set at the right height for either adults or children.
Sanitising stations
Hand sanitising stations can range from a pump action bottle stood on a table to a freestanding hand sanitiser station creating a much more professional image. Not only is a free-standing unit more visible but the footprint of the stand is smaller, so it takes up less space.
Hand sanitising points can also be fixed to the wall or, for some models, directly to glass partitions. We offer manual lever-operated models and a wall mounted automatic hand gel dispenser.
There are also tabletop dispenser stands to position on a counter or desk.
All products mentioned in this overview of hand sanitising dispensers can be ordered from our online shop which is fully secure.
You are currently viewing our legacy website based on old web technology which has not yet been upgraded. No sensitive information is collected on this website. Our modern e-commerce website at www.sign-holders.co.uk has all the necessary security certificates and buyer protection technology. Please click any of the links to head on over there!