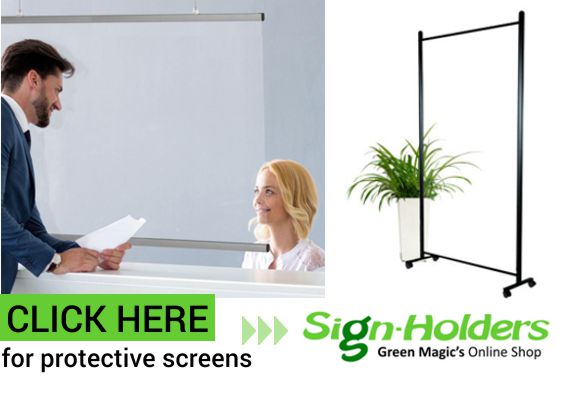 Screens for social distancing
When Covid-19 struck health experts focused the world's attention on airborne transmission of the virus.It was clear that sneezing, coughing, speaking - especially shouting and singing - could easily generate droplets of spit or microscopic particles of exhaled breath, which could readily transmit this virus from human to human.
In previous outbreaks many people in the western world scoffed at the mask wearing populations of the far east. Even world leaders have recently mocked those who wore face masks. However the first nine months of Coronavirus has generated a sea change in opinions and widespread uptake of face masks, face visors and protective screens for social distancing.
Sneeze protection screens
Transparent physical separators between humans are often referred to as sneeze screens or sneeze guards. These terms were well known in food retailing - for example a cake shop would generally be equipped with sneeze screens strategically positioned twixt cake and customer. A delicatessen counter has a sneeze guard to protect the displays from sneezing. Spit guard is another term with a similar meaning which was used in pre-Covid times. It was therefore unsurprising that these terms have migrated into areas unrelated to protecting food.Today sneeze protection screens come in many shapes and sizes.
Green Magic Co was ideally placed to engage with the new demand for protective screens. Lightweight support frames, clear plastic sheeting, suspension components for hanging signs and posters - these were our bread and butter. We immediately set our thoughts on how to adapt our existing know-how to target airborne virus transmission as an adjunct of social distancing.
Hanging and fixing screens
Based on our sign industry experience our panel hanging systems were rapidly adapted for suspending perspex screens. Perspex is a brand rather than a material, but people widely refer to clear plastic panels as Perspex, even when the actual material is, say, polycarbonate or PET. Acrylic is a very good material but not the cheapest so in parallel we developed low cost alternatives to perspex hanging screens. These have proved very popular for creating social distancing screens between desks, above bars and counters or as salon screens in hairdressers.
We also launched a range of clamp fittings for clamping perspex screens onto a desk or table. The clamps to attach the screen to the table edge are called desk screen clamps whereas the fittings used to create a clear separator across the middle of a table are called desk divider clamps.
Protection for counters
Shop counters can be fitted with custom or off-the-shelf sneeze guards. We have developed a midway course between the 100% rigid plastic screen and the more permanent type of glazed security partition one expects to find in a bank or post office. Our counter screens have smart silver aluminium frames to stand on a counter, but they can be freestanding avoiding permanently screwing to a marble counter top, for instance.
Our superior counter protection screen is glazed with rigid clear acrylic. Our more economical version is the counter sneeze guard which is glazed with thinner grade PET which is equally clear and effective as a barrier.
Office screens
Many of our screens are used in offices to keep staff socially distanced. However our floor standing screens, available with or without wheels, have proved especially popular because of the combined good looks and low price. Perspex dividers can be rather expensive, as can screens glazed with toughened safety glass. Our glazed freestanding screens offer a lower cost option to perspex room dividers. Our range has now grown to encompass hinged modular glazed screens for use as mobile office screens.
All products mentioned in this overview of screens for social distancing can be ordered from our online shop which is fully secure.You are currently viewing our legacy website based on old web technology which has not yet been upgraded. No sensitive information is collected on this website. Our modern transactional website at www.sign-holders.co.uk has all the necessary security certificates and buyer protection technology. Please click any of the links to head on over there!