Useful products for our garden centre customers
Green Magic is a specialist supplier to the garden centre industry and this page features a selection of products which are relevant to this sector.


Stakes for labelling
The
StakeHolder
combines a plastic Slim Frame with an aluminium stake to enable A5 and A4 laminated prints to be displayed on stakes stuck into the ground.
Stake signs can be used in soft ground or plant beds. Stick-in signs are also useful in lawns, golf events and outdoor functions. The message can be changed easily and the signholder re-used as required.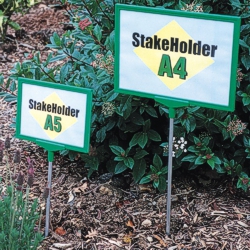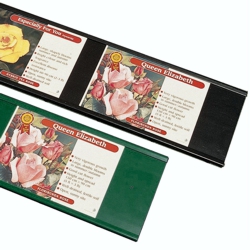 PVC bed card track is available in black and dark green - bith are UV stable grades.
See also bed card holders for garden centres.
Outdoor POS holder which attaches to a plant pot
Our plastic point of sale holders are outdoor grade. Outdoors a challenge is to prevent POS materials being blown away - wieght is needed to act as ballast.
Green Magic has devised a simple POS holder which attaches easily through the hole in an upturned terra cotta pot. The T-piece which holds the frame has a protruding threaded rod and is supplied with a large nylon washer and wing nut to tighten up inside the pot. This simple outdoor sign holder for A4 and A5 encapsulated printed inserts is low cost, effective - and a little quirky adding visual appeal!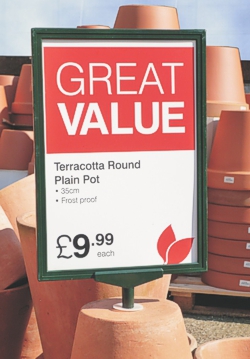 PVC bed card track or label track
Extruded PVC bedcard track is also known as label edge. It is sized to take 6in high bed cards or bed labels.
It is supplied in 2m lengths (10 lengths per pack = 20m) in black or dark green.
Label track is made in this size as traditionally descriptive plant labels used by plant nurseries were 8"x6" so the PVC extrusion was designed by 6" high inserts. This size remains popular in UK.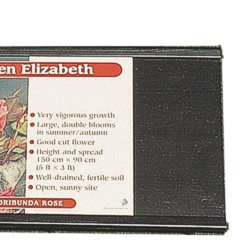 Wooden chalkboard stakes
Plant label stakes are frequently plastic but wooden stakes look more natural in a plant setting. Our wooden plant stakes have a blackboard writing surface which is receptive to chalk pens - like the ones used to write on pub blackboards and A-boards.
Green Magic stocks wooden chalkboard stakes in four sizes - all available from our online shop together with outdoor chalk pens.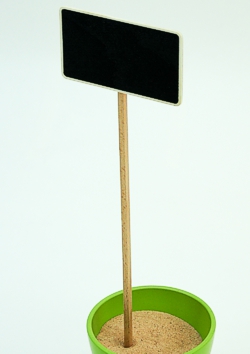 Velcro tree ties
This is a special version of a Velcro type product. It has hooks on one side and loop on the other so when it is wrapped around it grips to itself.
The beauty of this type of tree-tie in a retail situation is that customers understand how hook and loop fasteners work. It is therefore easy to take out a tree to inspect it or buy it, and return it securely if they decide to choose a different one. This is less likely to happen with buckles - although the latter are fine for permanent ties when the tree is planted.
Velcro tree tie
is supplied on a roll (10m or 25m per roll) and it is simply cut to the required length with scissors. It can be nailed or screwed to a wooden back-board.